Clyde the Glide
March 5, 2017
A couple of weeks ago I made an outrageous impulse purchase that's proving to be a great decision. It's good to be lucky.
Some background: I used to bike to work fairly regularly. I have a solid commuter bike and rain gear to manage Seattle's winters. Given our hills and my metabolism, bike commuting meant a shower at either end of the commute. Between that and the ride, I was spending nearly an hour each way. When I started distance running regularly, I gradually biked less, until I eventually left my bike in the garage most of the time and ultimately started paying for monthly car parking at the office.
Fast forward a year and I heard Horace Dediu talking about electric bikes on the Critical Path podcast. It struck me that an electric bike would speed up my bike commute, let me forgo the extra showers — no more breaking a sweat on Seattle hills — and leave me enough time and energy to satisfy my running habit.
Over the Presidents' Day weekend, I decided to stop by a local electric bike shop and take a test ride. The staff at Seattle Electric Bike knows how to make a sale. For my test ride they picked out a couple of likely bikes and rode along with me on a little tour of the neighborhood. Once I was comfortable with operating the bike, they took me to the base of one of the steepest hills nearby and had me ride up it. This is a hill that's a workout to walk up, let alone bike. With electric assist, it was pure joy biking up the hill. I had to laugh out loud at how much fun it was. I knew I was hooked.
I did some due diligence and test rode four different bikes from two different shops. I made sure to ride the Stromer that Horace favors, though it felt awkward to me. Ultimately I decided on the bike that I'd ridden first, the Felt Sport E 85-HP.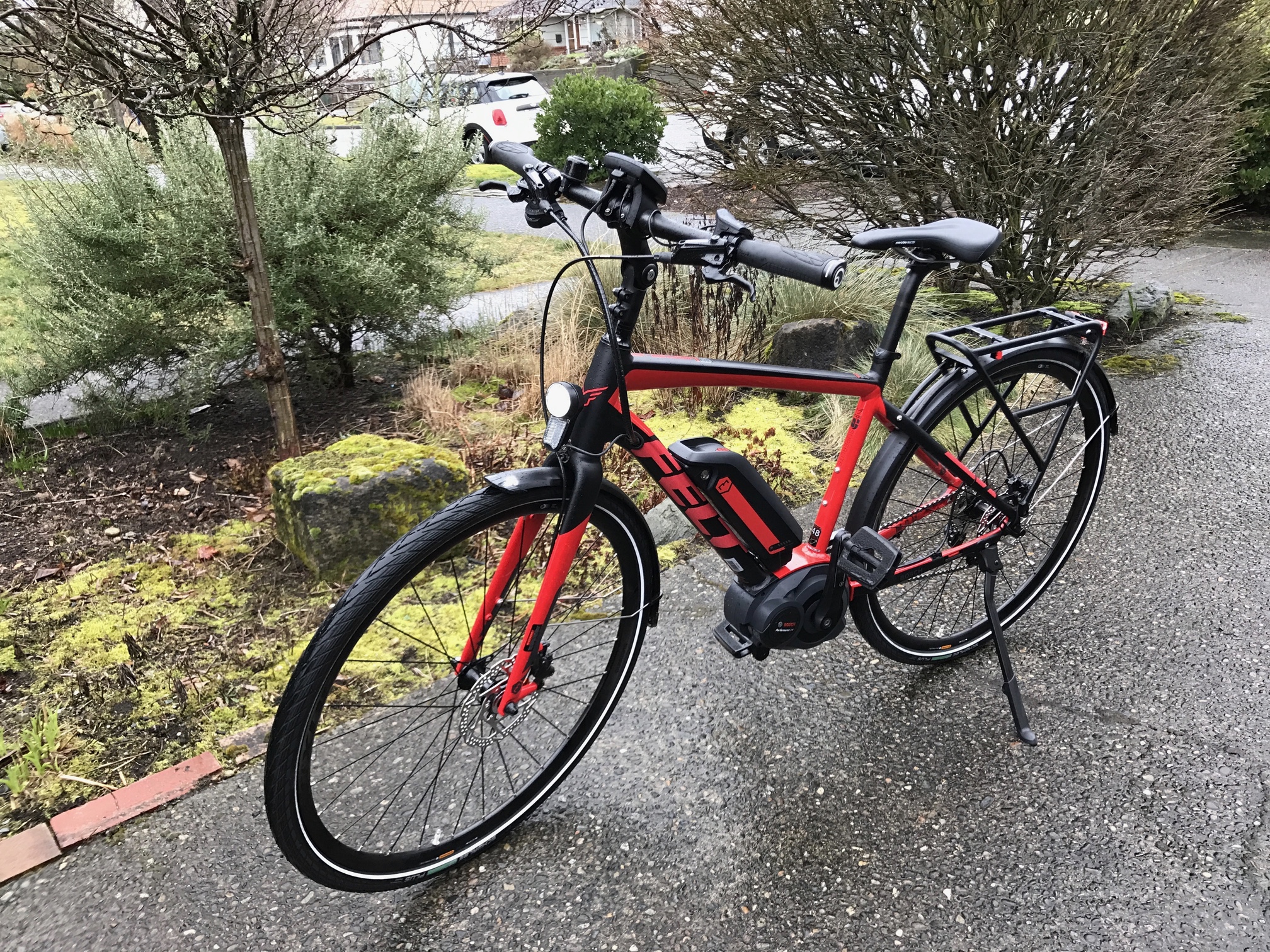 Clyde the Glide, as dubbed by Christina
This bike feels almost exactly like the Marin Sausalito hybrid I've been riding for twenty years. The stiff aluminum frame goes exactly where I tell it to. It also telegraphs every bump in the road, but I'm used to that and appreciate the sense of control. That said, a suspension seat post is likely to be on my Christmas wish list.
The electric assist on the Felt is a mid-engine Bosch drive. This drive senses the amount of torque the rider is applying and multiplies it. There are five settings ranging from a 40% boost in Eco all the way to 240% in Turbo. There's no separate throttle; you have to pedal to move. The trade-off is that, unlike throttled e-bikes that are capped at 20 mph, a torque-assist e-bike is road legal with assist up to 28 mph. In practice, I'm able to climb the biggest hills on my commute at 20 mph without straining and can easily sustain 25+ mph on the flats. I get 25-30 miles on a charge, enough for a couple of days of commuting plus errands. The battery pops off the bike with the turn of a key, so I can bring it in the house to charge. A full charge takes about 3 hours and costs pennies with the Northwest's cheap hydro power.
I figure the bike will pay for itself in 18 months based on savings in parking, gas, and ReachNow rentals (when Lisa needs our car). Of course, that's dependent on me actually sticking with it. After two weeks, that's looking like a good bet. I've driven our car just twice since getting the bike. Once to go skiing in the mountains and once when we had snow on the ground in the city.
And there's a bonus. I'm actually enjoying my commute again. Instead of sitting in stop-and-go traffic on 99 for 15–45 minutes each way, I have a consistent 25 minute commute that's fun. I've actually started getting to work earlier because I'm so eager to hop on the bike in the morning. Geeky? Yes, but at my age I've learned to accept that.
---